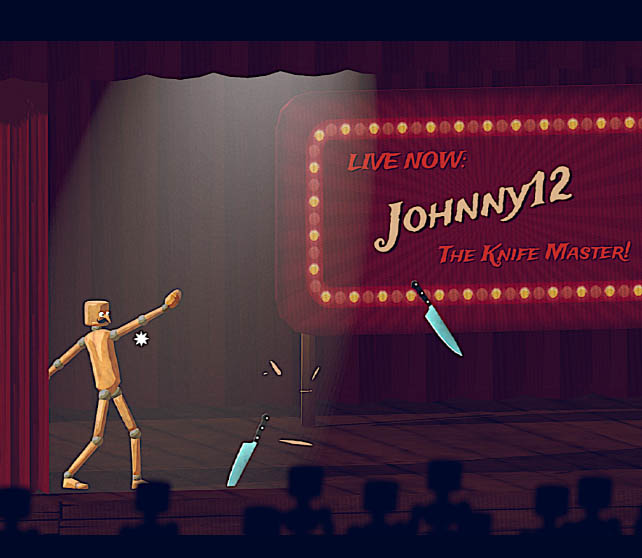 Dear Throwers!
As the creator of this game I had a lot of difficult decisions nowadays. It's 7 months now since the first Early access release. I'll be honest I expected more players and more feedbacks. About 40.000 players played it so far which is quite a low in comparison to my investments (time/enthusiasm/money). I have questions for myself like: what is wrong with my game? Why the other knife throwing apps have 100 million downloads while they have much less features, physics, content? Is it too hard? Is it because it is not hypercasual? Should I spend my remaining budget to marketing? Or shall I add more features? Is it too slow, too ugly or simply just uninteresting for the common type of players? Too many questions, and all very time consuming to answer. I hoped that this game will be popular enough and I don't need to spend my time analyzing these questions.
I still have a lot of stuffs on my to-do list, but now I started to feel if the game popularity doesnt change I cannot continue the development because my investment will never return and burning money was not among my initial goals. 🙁
However I still have some must-to-do things before I decide to stop this love-project or not. I hope some of the features will make a change.
Our next version (coming soon)
In the next days we will have a big update with achievements, live performances to earn money, survival mode, daily challenges, xp system, money system which will make it possible to freely unlock all the content.
All these features serves to keep up the long time interest for the game. We will have two new game modes:
Circus daily challenge: here you have 3 new levels each day and you can get XP by completing them in training mode, or completing them in LIVE mode (which is a live circus performance where you have only one chance: fail or complete). Both the training and live mode will have their winners each day with the best score, gaining medals -> the most medal owner will win a Weekly Trophy.
Survival mode: for each weapon you will play random levels start on level 1 (easy) and getting harder and harder. It will have separated leaderboards which measures how far you could get (for example level 21), all separated by different weapons.
Achievement system. Beside XP you can earn gold on some XP milestones, and we will reward players if they achive some predefined goals.

Our future (final) plans
After this update we will be focusing on user generated contents. These will be our final try to make the game more interesting for more players.
Weapon and level editor: Creating your own weapons (custom visuals, custom edge/tip parts and behaviours. We also plan to make a level editor. Here we will focus creating "a series of challenges" instead of creating only one level (but it is also possible to create one level).
Sparta mode: I also have a plan for a new game mode which would focus on a constant-walking character massacre with continously changing weapons. The vision in my head would be similar to the epic fight scene from the movie "300" where Leonidas picks up, slashes or throws different weapons slicing up his enemies in his way (with a lot of particles, camera effects).
Fun area: Beside the weapon editor the players could make custom characters/faces to create creative scenes such as your 'favourite' politicans throwing mini-yachts, or the opposite: use them as your assistant :). Players could upload these scenes and these would be available in the 'Fun area' game mode.
These 'final plans' will serve the goal of reaching a new type of players who are not interested in training to throw a knife perfectly, but would enjoy the game in a creative and funny way.
So thats the plan guys, I hope it's gonna work. Bests,
Mate Magyar
developer, Knife To Meet You