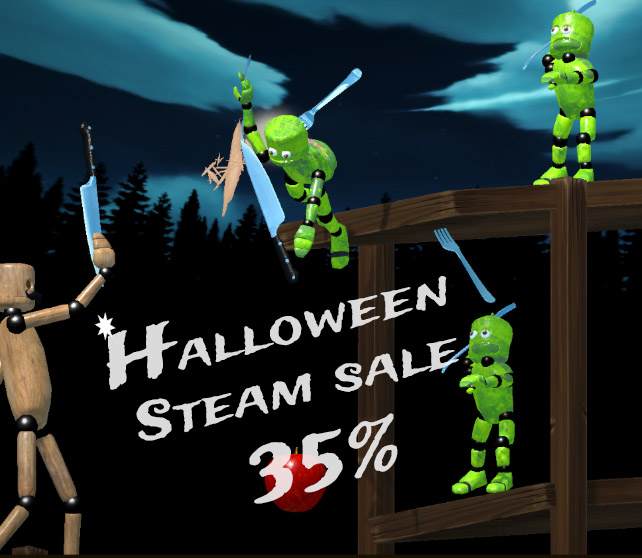 It's Halloween time. Zombies are coming, and your shaking friend's only hope is that you will introduce yourself in your usual polite manner… We are proud to announce our newest big update with a lot of cools stuffs:
Free Steam demo with 21+10 levels and two weapons is BACK AGAIN!
iOS version launched!
Player death: Now you can die too! It can be your own lame throw, an unlucky bounce, or any other knife meeting you.
Zombie mode: +5 free experimental zombie level where you have to focus on character slicing instead of fruits and targets.
Local multiplayer: experimental level to get a glimpse into multiplayer mode. Test yourself. Do you think we should make multiplayer?
Weekly challenge built in the game: each week we give away a free version to the best player who has the most point on a specific level. Join any time, read the details here.
"Eye" icon on completed screen to quickly watch current World Record on any level.
Top 10 Leadboard for each level from pause menu (by weapons), crown icon.
Replay system update: sounds, original speed mode and visible trick events
Replay camera: follow knife mode, perspective mode, custom camera rotation, position, zoom.
Full screen mode: hide everything and see only the ACTION! (in gameplay and replay)
A new starting screen
Visible level names
Quick level select ingame from pause menu
A new level in the free version and one new in the paid one too.
Level fixes to make all levels possible with all weapon.
No-Spin knife has now double edge to make it easier for new players.
A new trailer to show current game features:
Known bugs – we are working on them
Server connectivity issues
The Spin and No-Spin knife records will be restored soon
Sometimes zombies levels can freeze with unlimited slicing event. Restart the game until the fix.
Sometimes the knife stops slicing and giving points. Restart the game until the fix.
So what's next?
As you can see I'm creating experimental levels to see what you like. I'm still in big need of user feedbacks, because a very few player takes their time to share me what they think and what they would like. I have a lot of ideas but I feel blind, not knowing your needs. So come on, and write me to knifetogame@gmail.com.
One thing I'm sure I want to develop is a good level editor to open the door for your creativity. You will be able to upload your work and others will rate. This would create enough content for even daily contests. Here you can read about our future plans more detailed.
Have fun,
Mate Magyar (developer)
CAUTION Cut Hazard: Product has functional sharp edges. Contact may result in injury. Always keep blades away
from fingers and body. Handle with care. Use with adult supervision.Edit